A day in the life of a virtual PRO - Part One
February 10, 2022 •SAPRO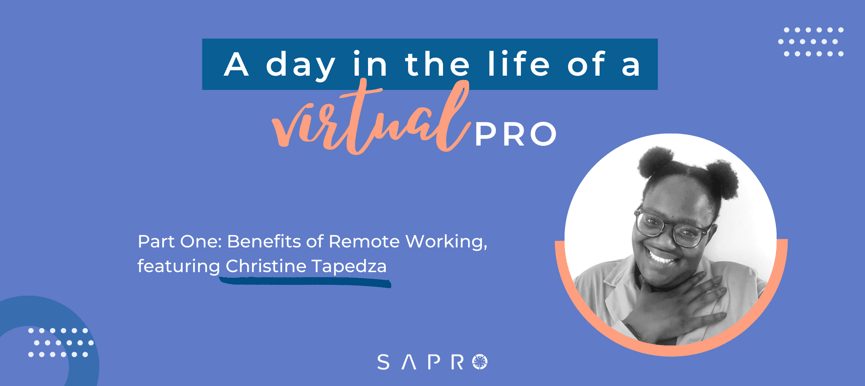 I have been privileged to be assigned to USA engagements and I have found a routine that works for me and the client.
Working from home has allowed me to have flexibility with my schedule (within reason) – and I have enjoyed the work/life balance. I have time to do my workout sessions and run errands before I sit at my desk and begin a productive day of work.
It's all about balance – Depending on how you structure your day, you can have time get in a brisk walk or run, meditation, and some fresh air before, during or after your workday and still deliver the productive hours required. It's all about balance, and SAPRO is so encouraging of this and ensures our holistic well-being is a priority.
Money savings – yip that kicks in too! When I was working at the office I used to worry about transport and lunch. I now have no stress of transport money or what am I going to buy for lunch because at home it is a one-stop shop. I have started eating healthier and I no longer feel so tired which has improved my productivity.
A happier, healthier work life – Remote work taught me to be responsible and accountable. There is that awesome feeling that comes with you knowing you are in charge. You have deliverables for the day and you know output is key. No matter how you structure your day, the onus is on you to deliver. Isn't that just amazing to be your own manager! Working from home has proved to lower my stress levels, provide more time for hobbies, interests and improve personal relationships among other things. I am a happy PRO and as a happy PRO I always deliver to the best of my ability.

Setting boundaries – One challenge with working from home is that your office is right next to you always. If you are not careful or tactical you may end up in 'work mode' all the time. To be honest when we knock off for the day, there is always a list of tasks to tackle the next day, but it is important to be disciplined with your down-time. I have managed to successfully balance work and life by setting strict boundaries for myself. When it is time to work, I am focused and when it is time to log off I do so with a smile and tell myself - a rested mind is going to help me deliver this work tomorrow, resting and relaxation is part of the process and I need to rest properly.
A summary of my productive busy day as a PRO at SAPRO:
I wake up in the morning, check my emails to structure my day.
Go for a run before hitting the gym at 8:00 for a good workout session (do not mind the intensity of the workout I am just a fitness bunny and it is the secret ingredient to being an awesome PRO).
After gym I may pass by the shops get some grocery items, get back home have a decent breakfast catching up on a series or listening to music.
11:30 I am at my desk preparing for my 12:00 work shift.
I grind till 10/11pm with stretch breaks in between. I have made it a habit to stand for at least a minute every hour (with the help of my watch as a reminder) and have some water as I stand, just to keep hydrated and refresh my thinking box.
Remote working at SAPRO has allowed me to view work through a whole new lens. I am happier, healthier and more productive, and I am grateful that SAPRO has afforded me the opportunity to live a life of balance.
#SAPROCares #TheSAPROExperience #RemoteWorking #LifeOfaPRO