A day in the life of an onshore PRO - Part One
March 4, 2022 •SAPRO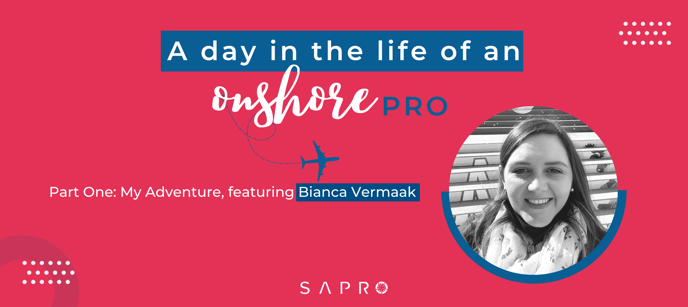 My experience as an onshore PRO.
When the pandemic regulations started to ease, I immediately put my hand up to be part of the first "back-to-being" onshore team. My excitement level was contagious. It was also nerve-wracking packing, wondering how we would get there as another round of COVID related regulations were being spoken about. Fortunately, luck was on our side and we made it. I'm now based in Dallas in Texas.
Over the last few weeks of working abroad with SAPRO, I have experienced first-hand the value and opportunities that have come with this life-changing adventure that I am on. 
Communication - One of the perks of being onshore is that you have access to your Managers and audit team members. This has allowed me to interact with Managers in person and adapt to their management styles quickly. I can ask questions pertaining to my work, discuss matters timeously, share knowledge and learn from others. This has been hugely beneficial and has supported me in my success to date.
Support-system - Adapting to a client's auditing methodology and software systems takes some getting used to and being onshore has allowed me to have a great support system through my colleagues and IT personnel, making this transition easy and seamless.
ADVENTURE!!! - Being Onshore enables you to travel the world and see new places. SAPRO supports you every step of the way and makes sure that you have everything you need to be able to fully enjoy the experience. I've been to some exciting new places, enjoyed a few rodeos, a basketball game where we watched the Texas Legends, got to do some glass blowing and even axe throwing.
Events & Social Interactions - Whenever there have been events in the evenings during the week, my Managers encourage me to go to these events. It's a wonderful opportunity to socialise with your peers and Managers and learn more about the client you are working on. Weekends are the best because you can go out, explore and meet up with other PROs who are also working onshore near you! Work-life balance is so important, and I love that I am able to explore a new country, make new friends, have exciting experiences, and fulfil my work commitments.

A day in my life as an Onshore Pro
Typically, I like to workout in the morning before work (although sometimes I'm too tired!)

I eat breakfast and get a lift to either my host firm's office, or my client's offices

My working day usually starts at 8 AM when I meet up with my team and get started on the days work

Lunch is usually at 12 PM (PS: People LOVE taking you out to lunch and this is a great way to get to know your colleagues)

I usually head home at about 5 PM, however this is dependent on your client and Manager's needs. I prefer to go home at 5 PM, rest and refuel and then work the remainder of the evening from home (depending if there is work still needing to be completed).
If you are like me and you love the social aspect of auditing, being onshore is a MUST. It allows you to get to know different people, cultures, ways of working and make new friends. SAPRO is so dedicated to providing our SAPRO Community with unique, meaningful and incredible opportunities to live out our personal and professional dreams. Thank you SAPRO!