The Importance of Both Employee Wellness & Mental Wellness
July 9, 2021 •andresterley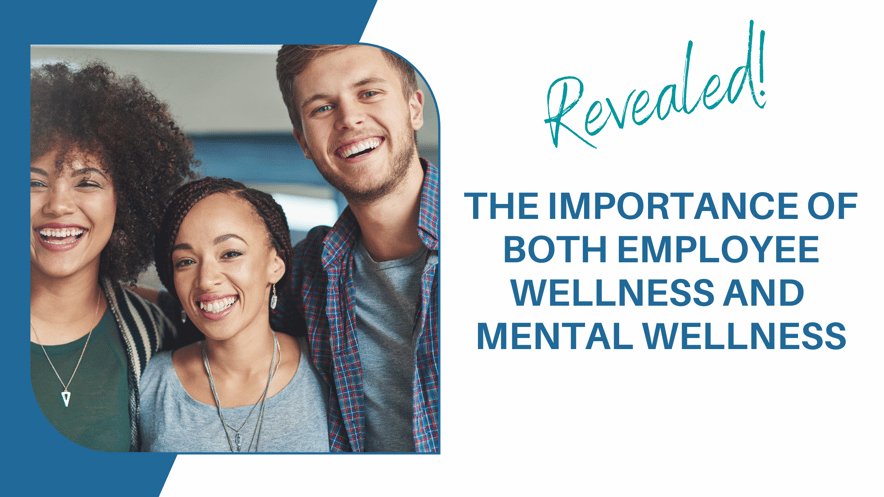 Pandemic or not, employee engagement has been a struggle for years. Even at its most recent height (before 2020), only about a third of employees were considered highly engaged and satisfied with their work.
As the world comes out of lockdown and the global economies fire back up, the focus will gravitate towards providing a healthy workplace for employees to thrive. And believe it or not, there are great opportunities to improve your team in a way that fosters wellness.
This article focuses on building a firm that:
Performs well as a business
Fosters employee and mental wellness
Creates a strong, diverse, and lasting culture


Mental Wellness
Mental wellness is an important topic affecting employee engagement and productivity. Professional adults spend at least a third of their time working, commuting, or thinking about work.
Our mental wellness, and that of our team, can play a major role in our performance, productivity, and general life satisfaction. High levels of stress over lengthy periods can negatively affect how we collaborate with our team-members and our general wellbeing.
Because of the potential impacts on our businesses, and more importantly on the wellbeing of our employees, it's worth keeping employee wellness in mind.
Clear Training
At times, new employees feel "thrown into" a new work environment. When processes aren't fully developed and solid training isn't provided, you set new accountants up for a lack of employee wellness.
Sometimes, firms expect new accounting professionals to come fully prepared to handle all audit scenarios. While most do attend college or university to learn how to perform these basic duties, providing clear training and expectations is necessary for their success in your organization.
It's this reason, SAPRO partners specifically with accounting firms. Our processes begin with hiring qualified individuals, with at least three years of audit experience.
Firms who work with us then choose from our pool of diverse, talented professionals. Then, we work with you to specifically train each person to work for your firm, your clients—as a member of your team.
This solid training, paired with their experience creates an environment where mental wellness flourishes. And to ensure it continues, SAPRO is uniquely positioned to help even further by managing performance to ensure quality.
Work/Life Integration
Over the past few decades, the discussion has shifted from achieving work/life balance to finding optimal work/life integration.
WFH has benefits for both employees and employers, but it can blur the boundaries between work time and home time. Where professionals previously had a 20-minute commute to unwind and ramp down, they tend to close the laptop and shift attention to home life - family, children, making dinner, etc.
It's no longer about balancing the time between work and home, but rather optimally integrating the two. Helping your employees set boundaries on working time can go a long way to improving their mental wellness.
Emotional Intelligence (EQ)
Emotional intelligence, often referred to as EQ, is the measure of someone's ability to identify, use, and manage their emotions and those of the people around them.
Technical skills matter, but beyond entry-level positions these skills are the basic requirement. Basic and programmable tasks are increasingly being outsourced or automated (in accounting too).
What remains are activities requiring human touch, activities requiring emotional intelligence: managing teams or getting proper and accurate information from clients.
Harvard Business School says leaders and team members excelling in these four competencies (and having high EQ) tend to get great outcomes:
Self-awareness
Self-management
Social awareness
Relationship management
Employees and leaders possessing these qualities tend to have teams that collaborate better. High EQ contributes to higher employee engagement and lower turnover rates.
How to Support Your Staff with Mental Wellness
Beyond assisting your team with work/life integration and training for emotional intelligence, there are a few ways you can support your staff with mental wellness. While these methods may seem radical, these policies can help you attract and retain high-quality talent.
Mental Health Days
If you and your team go through a stressful period (i.e. audit season), recovery can sometimes take more than a standard weekend allows. During these intense periods, employees often neglect personal obligations (i.e. family, other dependents, or even just maintaining the household), and a weekend never feels like enough.
Consider normalizing mental health days so employees don't feel guilty or shame around their stress or mental health issues. Think about implementing a "no questions asked" policy, reducing employee guilt around justifying a day or two to recover.
Life Coaching / Psychologist on Call
Having a psychologist or life and career coach on call to listen can help employees proactively address work-related stress issues.
Many employers operate with an unspoken "take it outside" policy, forcing staff to address work-related issues on their own time.
But the benefits of engaging this type of service (or hiring in-house) include:
Increases in productivity and effectiveness
Higher employee retention
Improved morale
Workload and Stress Management
Making sure work is fairly distributed according to your team's capacities and abilities can be challenging. Fortunately, there are a lot of tools available to enable the strategic distribution of work and activities amongst your teams.
Using one of these tools to manage workload is a way to help your employees manage their stress levels, and contribute to mental wellness.
Remote Engagement
Humans are social animals. Last year's unprecedented level of WFH reminded many that working from an office has some major social advantages.
If you're leading a remote team, maintaining social connections is a critical part of building team cohesiveness. Get creative, and try to have at least one session a week to engage with your employees—both one-on-one and as a team.
Some ideas:
Weekly coffee hours for colleagues to mingle with direct and indirect coworkers
Remote events (wine tastings, cooking classes, game nights, etc)
Plan a few minutes at the beginning of team meetings for catching up and being social
Remote work is here to stay. The teams who manage to nurture social connections will reap the benefits of stronger team cohesion.
Employee Mental Wellness
Attracting and keeping the best talent is more than competitive salaries, interesting projects, and a cool office. Keeping employees engaged and effective is a byproduct of helping them maintain mental wellness.
Workload can have a big effect on employee wellness. One way to take up some of the slack, and in turn improve their stress levels, is through our trusted strategic partnership program. We provide quality public accounting talent with relevant industry experience for your busiest time of year. Schedule a free consultation here to learn more.
P.S. If you found this interesting, subscribe to our mailing list to get more helpful articles in the future.