Workforce Planning in an Accounting Firm
Skilled and experienced accounting professionals are the driving force of any accounting firm. Without them, your firm cannot provide clients with quality services. For this reason, it's important for your firm to have a well-thought-out workforce planning strategy in place.
Workforce planning is a comprehensive process. Steps include analyzing the current workforce as well as determining the skills, resources, and expertise necessary to meet your short and long-term needs.
It is both a near and far process covering immediate as well as future needs. For instance, your firm may double in size over the next five years, needing nearly double your current workforce to handle the busy season.
While many organizations realize the importance of workforce planning, most still lack the time, tools and capabilities to execute it effectively. As a result, firms end up understaffed without ideas for filling resource gaps. Even worse, this risks overworking existing teams, losing high-performing talent, and losing clients to better-prepared competitors.
In short, your firm must have an effective workforce planning strategy to avoid these problems.
What Benefits Will My Accounting Firm Receive From Strategic Workforce Planning?
When your firm takes the time to create and implement a strategic workforce planning strategy, it pays dividends in the long run. Your firm will be better able to identify and fill key roles, retain top talent, increase productivity and efficiency, and reduce costs.
Strategic workforce planning also helps you better manage your current team's workload and job responsibilities, reducing burnout and increasing job satisfaction. Additionally, you can use the insights gained from workforce planning to create a better culture and work environment for employees and improve communication between management and staff.
But perhaps the greatest benefit of strategic workforce planning is the ability to anticipate and respond rapidly to changes in your industry. By understanding what skill sets are needed for the future and making informed decisions about when and where to source them, your firm will be able to stay ahead of the competition.
Look at it this way: Say you're playing a game of chess. You need to plan your moves in advance, anticipate the other player's next move, and know what pieces you have available before choosing your strategy. Taking reactionary actions without understanding the endgame is rarely effective. It simply can't cut it.
The same is true for strategic workforce planning. You need to understand the current state of your firm (in terms of capacity). Know where you want to be in the future, and how you plan to get there.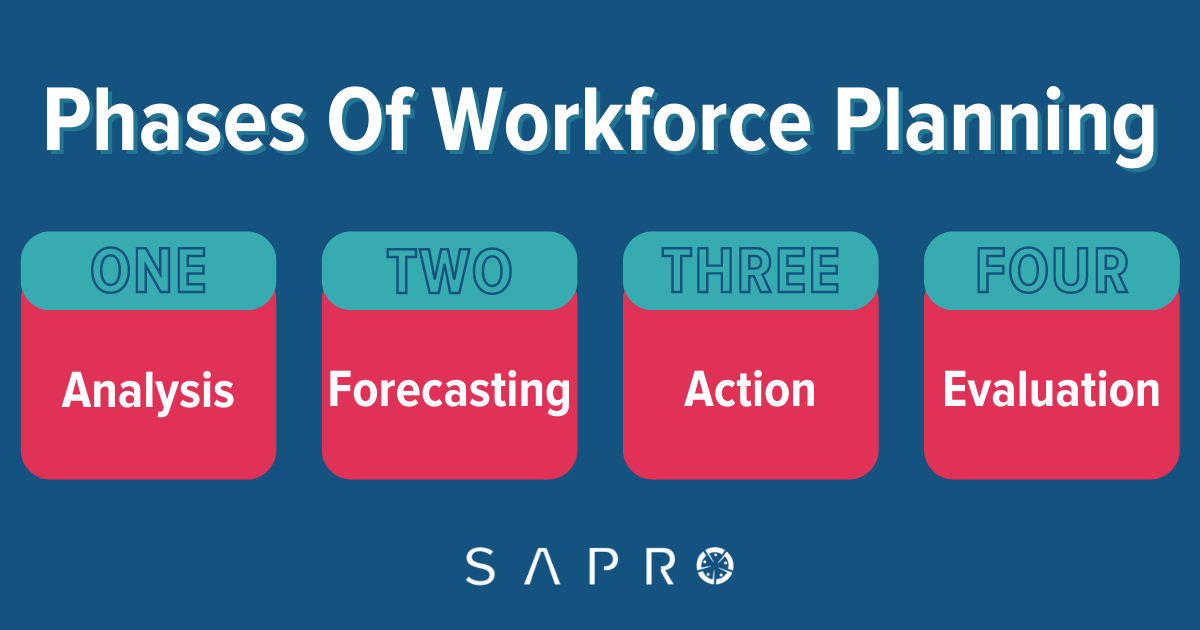 Phases Of Workforce Planning
While it's possible to apply people analytics and data-driven insights to workforce planning, it's important to remember that this process is more than just crunching numbers. It is a systematic, rigorous, and disciplined process combined with a:
Solid grasp of business strategy

Future forward view of the organization and your industry

Comprehensive understanding of your current and anticipated workforce needs

In-depth understanding of organizational culture and goals

Deep understanding of human talents and capabilities
In order to be successful, workforce planning should involve four distinct phases:
Analysis

: This phase requires an in-depth look at your firm's current and future state, including a review




of its size, structure, and available resources.
2. Forecasting: Here, you'll need to forecast the staffing needs of your firm based on the analysis you have conducted. This includes an understanding of short-term needs as well as long-term objectives and goals.

3. Action: Based on the forecasts and insights, you'll need to determine the best course of action for meeting your staffing needs. This may include hiring new employees, re-training existing ones, or outsourcing certain tasks.

4.

Evaluation

: The final step is to evaluate the effectiveness of your workforce planning. This requires an analysis of whether your strategies have achieved the desired results and if any adjustments need to be made.




Of course, this is just a brief overview of the process. Working with experienced professionals who understand the complexities of workforce planning ensures your firm makes the best decisions for its future success.
Workforce Strategies to Meet Evolving Business Needs
Given the rapidly changing nature of the accounting industry, your firm must be able to respond quickly and adapt to meet client needs. The right workforce planning strategies can help you achieve this.
For example, implementing flexible work schedules and job sharing helps to create a more agile and responsive workforce. This is especially helpful during busy times, such as tax season, when demand for services is higher than usual. But even better, a year-round agile workforce can give your firm the ability to react to changing market conditions or new opportunities quickly.
For optimal performance and efficiency, your firm should also look at the continuously changing landscape of technology to ensure its systems and processes are up to date. Identify what can and can't be automated and determine the overall effectiveness and efficiency. Could it help with improved forecasting of staffing needs? Are there any new technologies that could make life easier for your team?
Finally, ensure that your staff receives regular training and development opportunities. This helps to ensure they have the right skill set and knowledge base to handle any changes or challenges they might face.
A Necessary Investment
Without the right talent at all levels of your firm, it's impossible to meet the needs of a modern accounting firm.
Why?
Cost:

In most cases, you don't need permanent staff but a highly skilled workforce available when needed. This can save your firm time and money.
Performance:

An experienced and versatile workforce can help your firm to quickly adjust to changes and uncertainties in the market.

Flexibility:

Contracting flexible workforces over peak seasons, such as fiscal year-end, audit season, or tax season, enables your firm to deliver timely and accurate services to its clients.

Global vs. local:

With an aging population and fewer and fewer specialized accounting professionals, having access to a highly skilled workforce on a global level is essential for staying competitive. Hiring a global workforce can help you overcome language or cultural barriers and provide value to your clients.

Skills/knowledge/competencies:

The demand for greater specialization, especially in emerging sectors, such as ESH, Blockchain, and Crypto, requires highly skilled professionals. Unless your firm has access to the right skill set, it cannot deliver the desired results.

Innovation:

New talent will bolster innovation and inject new thinking into your firm. Keeping this type of talent might be expensive, so an innovative workforce planning strategy can help you to access the right talent without breaking the bank.




Access On-Demand Talent From A Single Partner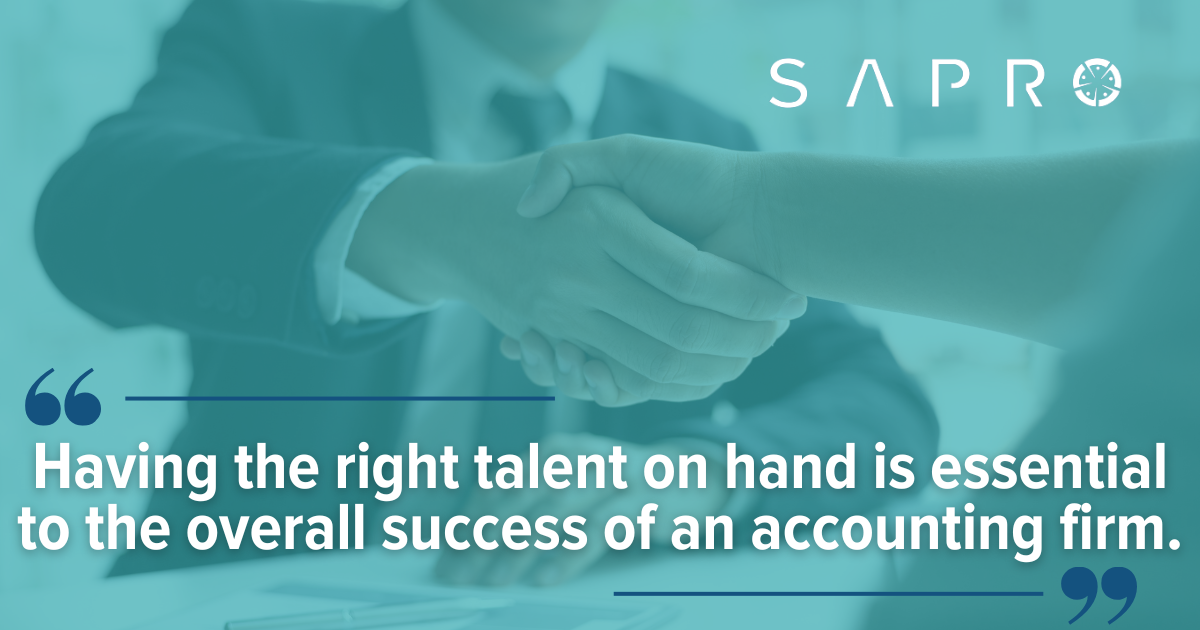 Having the right talent on hand is essential to the overall success of an accounting firm. Yet, a traditional hiring process can be long and expensive. This is why more and more firms are turning to on-demand talent providers such as SAPRO to access the skills they need when and where they're needed.
At SAPRO, we understand that workforce planning is time-consuming for most firms. That's why we provide access to highly skilled professionals from all over the world.
Whether you're looking to hire a single accountant or an entire team, SAPRO is here to help.
With our vast global talent network, SAPRO provides the right resources — whatever the challenge your firm might be facing. Schedule a discovery call with us today if you are ready to level up and take advantage of the modern workforce.
We look forward to helping you achieve success!
Need Auditing, Risk Assessment and
Regulatory Compliance Talent?
Scroll up